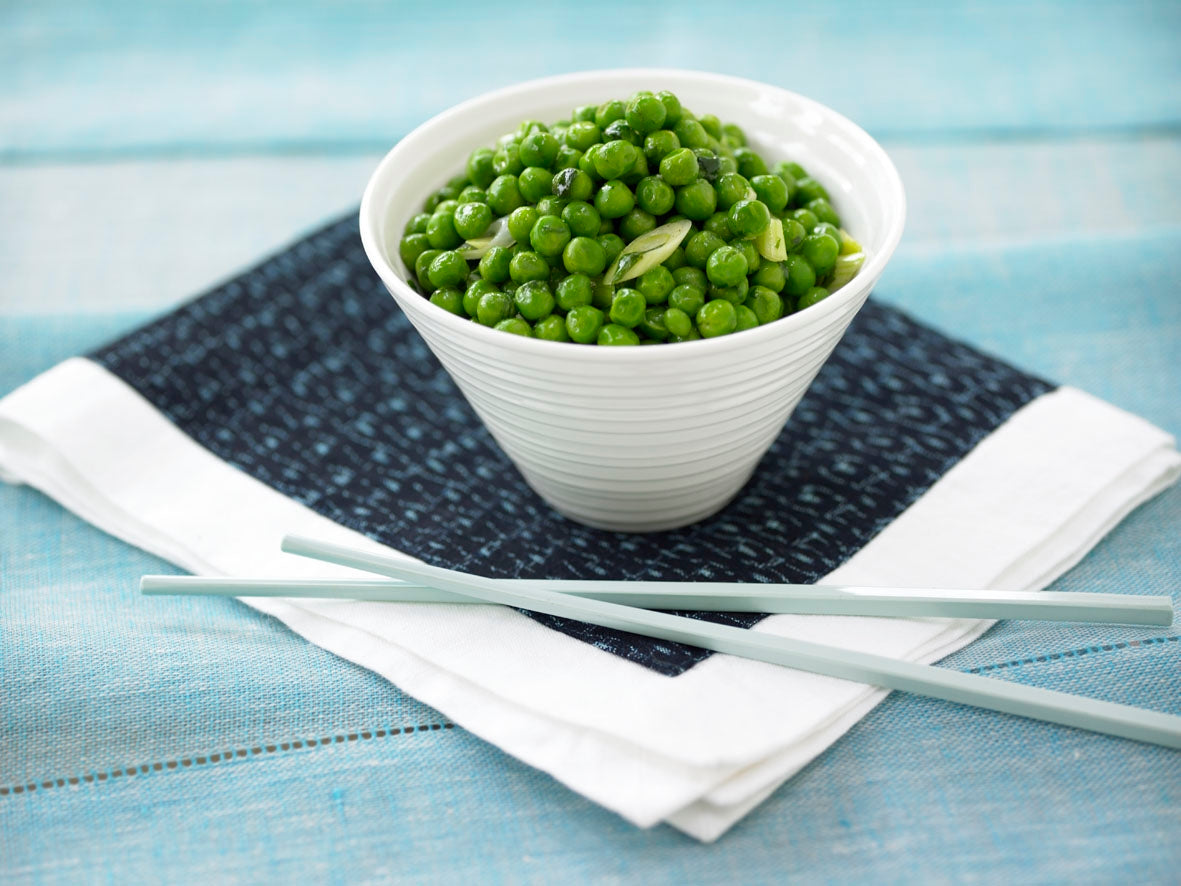 Stir-fried Peas with Fresh Coriander, Spring Onions and Sesame Oil
ecause of their sweetness and succulent texture, peas are a popular dish in any meal. Here I have enhanced their virtues with some spirited seasonings. A quick, easy and tasty vegetable dish. 
1 pound (450g) fresh or frozen peas
1 tablespoon oil, preferably groundnut
2 tablespoons fresh coriander, finely chopped
2 tablespoons spring onions, finely chopped
2 teaspoons garlic, finely chopped
1 teaspoon sugar
1 teaspoon salt
1/2 teaspoon freshly ground white pepper
2 teaspoons sesame oil
If you are using fresh peas, blanch them in boiling water for 2 minutes, drain and set aside. If you are using frozen peas, let them thaw at room temperature.   
Heat a wok or large frying pan until it is hot, then add the oil.
Add the peas and stir-fry for 30 seconds, then add the fresh coriander, spring onions, garlic, sugar, salt and pepper and continue to stir-fry for 3 minutes or until the peas are cooked. Add the sesame oil and give the mixture a final stir and serve at once.
I was introduced to this dish one evening when I dined with Madhur Jaffrey and her husband at the Shun Lee Palace restaurant in New York. She suggested it to me, predicting that I would appreciate ...
Read more
Stir-fried Peppers with Scallops
callops are fragile, sweetly delicate morsels and need very little preparation or cooking time. They embody the virtues of "quick, easy, delicious". In this recipe, I combine them with nutritious, ...
Read more