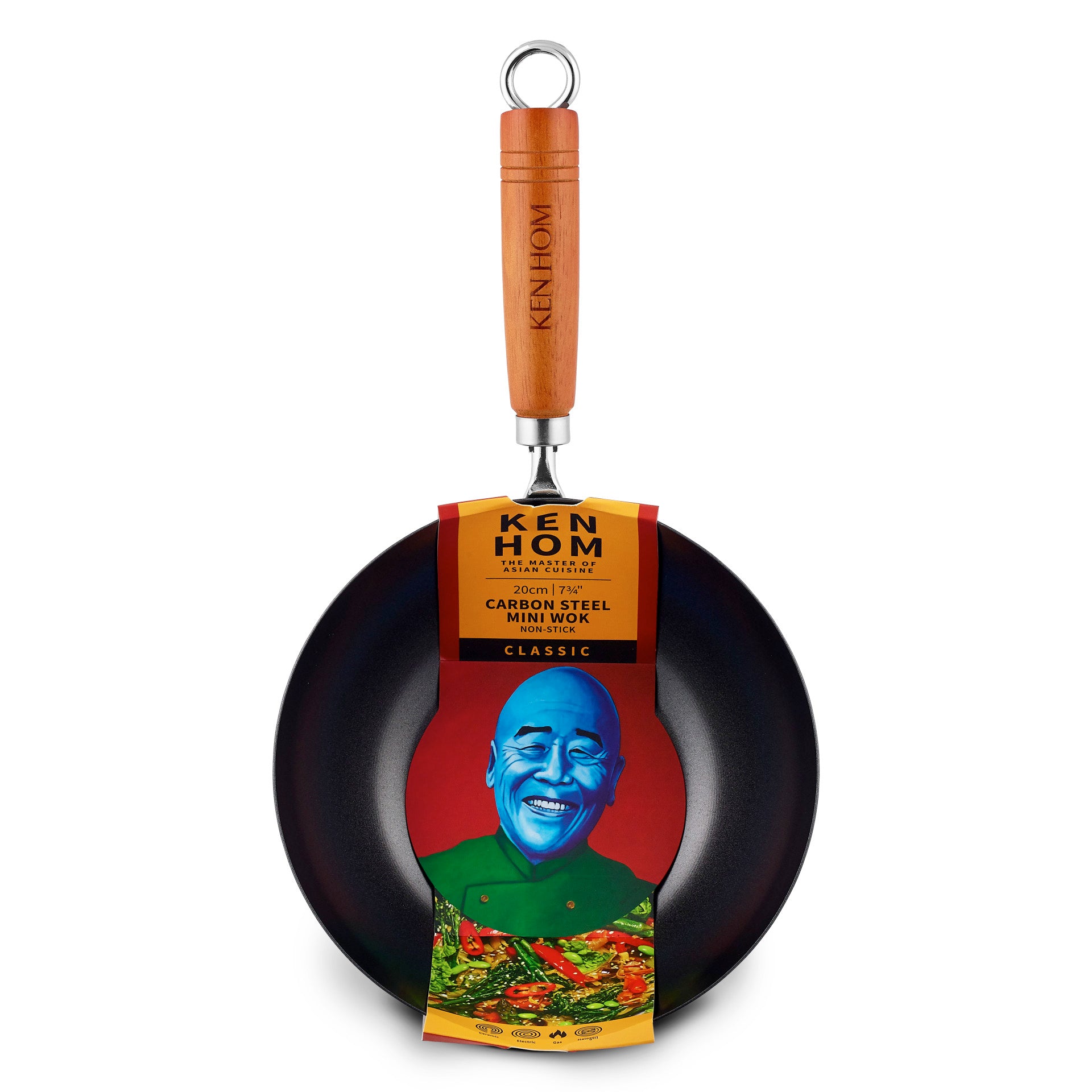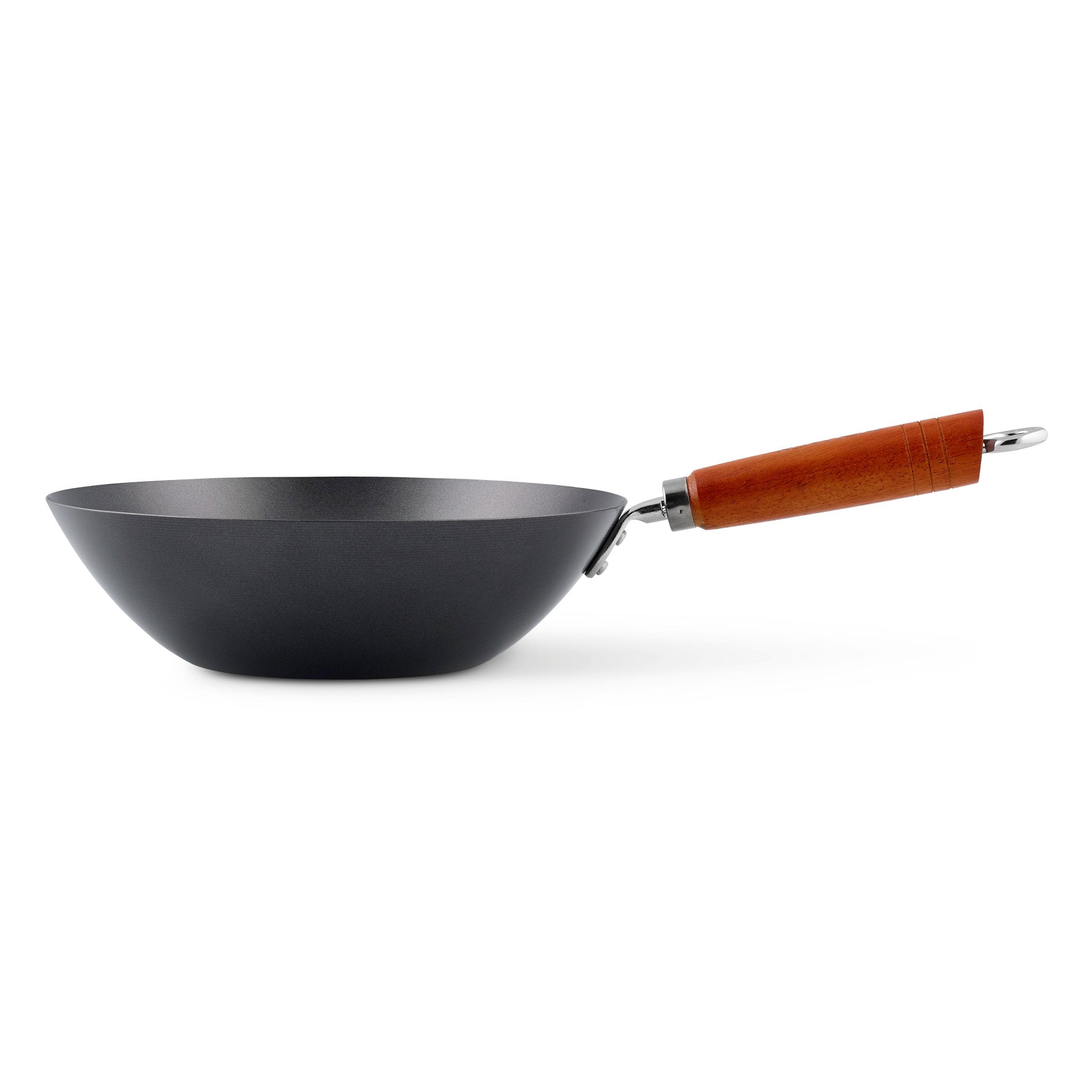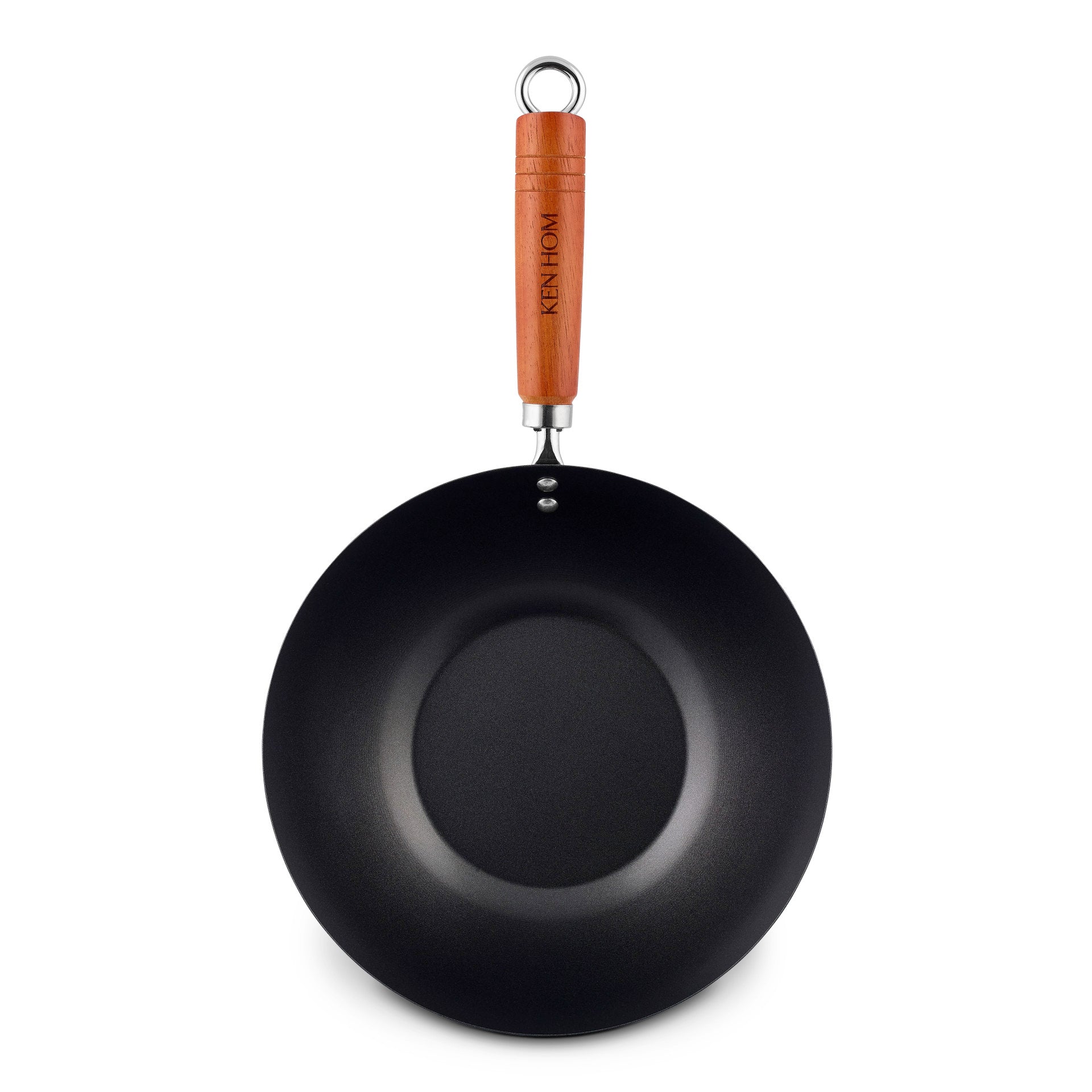 SKU: KH327001
Classic Non-Stick Carbon Steel Wok 27cm
Sale price

£25.00
Regular price
(/)
---
This 27cm wok makes stir-frying quick and easy. Lightweight and featuring a flat bottom ensures it is easy to use and fits perfectly on most hobs whether gas, electric or ceramic. The non-stick coating has been applied inside and out to provide a robust seal for long-lasting endurance making it the perfect piece of kitchen equipment for everyday use. Stir-fry cooking is all about being quick, easy and healthy and this wok has been designed to assist with achieving that.

Easy To Use
To start cooking, place the wok centrally on your hob ring and heat up gently with cooking oil. Once the oil is smoking hot add your chosen ingredients and start cooking. The non-stick coating means you don't need to tun the hob up to full heat. As long as you keep stirring and the food is sizzling it will cook quickly and evenly.
Exceptional Quality
Made from 1.4mm gauge (thickness) carbon steel it offers great heat conduction making it ideal for high heat, high speed cooking whilst ensuring the temperature remains consistent throughout. The long wooden handle ensures it is easy to carry and perfectly balanced so won't topple over. To help prolong the integrity of the non-stick coating it is recommended to use wooden, silicone or nylon utensils rather than metal which can scratch.
Easy to Maintain
Occasionally apply a thin coating of cooking oil to the inner surface of the wok to prevent rusting should the coating become scratched.
The wooden handle has been crafted to ensure it is functional as well as traditionally stylish. Finished with a clear lacquer it is easy to clean and easy to carry even when full of delicious food. The handle is secured tightly to the wok with two rivets so you can be assured it won't become loose and wobbly over time.
Easy to Clean
The non-stick coating also means it is easy to clean by hand with hot water. Mild detergent can be used if desired. Any stubborn food can be left to soak for a few minutes. Avoid using any harsh scouring products as this may damage the non-stick coating. Thoroughly dry with a clean soft cloth. 
Easy to Store
The large metal loop on the end allows for easy storage as you can simply hang up your wok when not in use.
Usage and Care Instructions
Before First Use
Remove all packaging and labels and wash the wok in hot soapy water using a mild detergent. Rinse and dry thoroughly. Using The Wok The wok cannot be used on induction hobs, however it is suitable for all other cooker types. We recommend that you also refer to your hob manufacturer's usage instructions. Not suitable for use in conventional or microwave ovens. Should the handle become loose during use, please retighten immediately. Always match the base size of the wok to the heat zone it is to be used on. Add the oil to the wok then heat carefully until small "ripples" appear on the surface of the oil. Do not let the oil become smoking hot. If this should occur let the wok cool down before proceeding.
Olive oil, including extra virgin, is not recommended for stir-fry cooking as it has a low smoking point. It can easily burn which may damage the wok. During cooking, if the ingredients start to become dry or stick together, add one or two tablespoons of hot water and continue stir-frying; do not add more oil as this may make the finished recipe too oily. If used on a glass-topped hob always lift the wok on, off or across the surface. Never slide the wok as this may cause damage to the wok base as well as to the glass. Take care not to let the wok overbalance during use and never leave the wok unattended during cooking.
Heat Settings and Cooking Utensils
Take care not to overheat the wok; it should never be used on a maximum or too high a heat setting as excessive surface temperatures will damage the non-stick coating. Keep gas flames confined to the base area; they should not extend up around the outside of the wok as this could cause overheating and lead to damage. Take care not to place the
handle over direct heat or a naked flame. Never use knives or metal utensils with sharp edges on the non-stick surface.
Cleaning Instructions
Let the wok cool down for a few minutes before cleaning. For any stubborn food residue fill with hot soapy water and leave to soak. Only use cleaning pads recommended for non-stick surfaces. Do not use metal pads, harsh abrasive or very stiff pads/washing up brushes or abrasive cleaning products on any surface. Hand wash the wok only, it is not dishwasher safe.
Guarantee:
The wok is covered by a 2 year guarantee, from date of purchase, if used in accordance with all care and use instructions provided.
Classic Non-Stick Carbon Steel Wok 27cm
Sale price

£25.00
Regular price
Choose options