This is an example of the "New Hong Kong Cuisine," and fast as well. Hong Kong chefs have adapted the exotic mango to new uses, as in this recipe. The soft texture and sensual sweetness of the fruit offer wonderful contrasts and complements to the sturdy familiar virtues of beef.
Most of the work involved is preparatory; the cooking takes but a few minutes.  Mango Beef is delicious and impressive enough to serve as a main course for either a family or a formal meal.
 -----
Preparation Time: 15 minutes
Cooking Time: 3 minutes
Serves: 4-6
 -----
Ideal wok pairing: 20cm Mini Wok - Perfect for this smaller dish with less ingredients.
-----
Ingredients:
1 lb (450g) lean beef steak
1 tablespoon light soy sauce
2 teaspoons rice wine or dry sherry
2 teaspoons cornflour
1 fresh mango
1 1/2 tablespoons groundnut oil
2 teaspoons dark soy sauce
1 teaspoon light soy sauce
1 teaspoon rice wine or dry sherry
Method:
Cut the beef into thick 1/4 in (5mm) x 2 in (5cm) slices using a sharp cleaver, and put them into a bowl. Add the light soy sauce, rice wine or dry sherry, and cornflour and mix well.
Peel and cut the mangoes into thick slices.
Heat your mini wok until it is very hot, then pour in the oil. Add the beef and stir-fry for 2 minutes to brown. Add the soy sauces and rice wine and stir-fry for 30 seconds. Then add the mangoes and heat through. Give the mixture a final turn and serve at once.
Pro Tip:
* Undercook the beef, as it continues to cook enough after it is removed from the wok.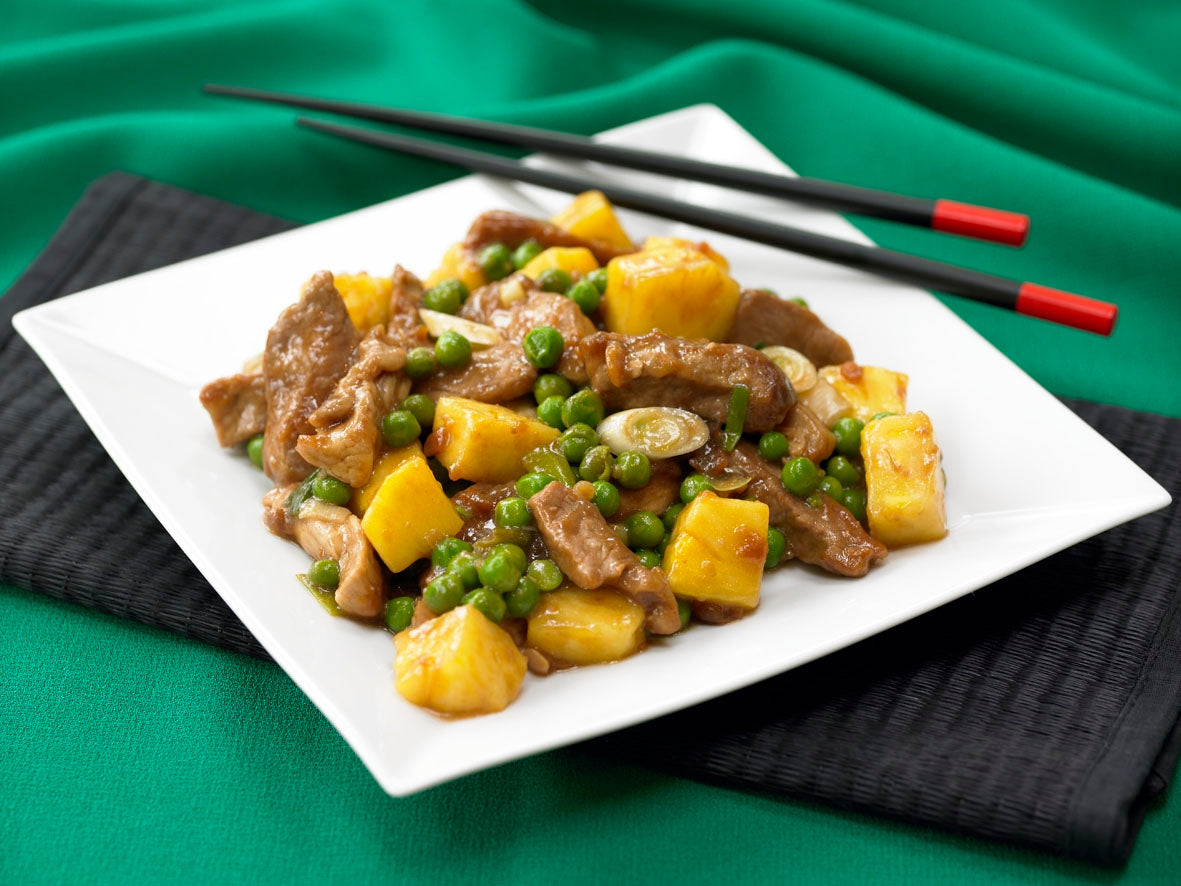 Stir-fried Pork with Pineapple
Again, pork is so distinctly flavourful, it goes nicely with practically any other assertive ingredient, in this case, pineapple. The sweet, slightly acidic fruit blends easily with the pork, while...
Read more