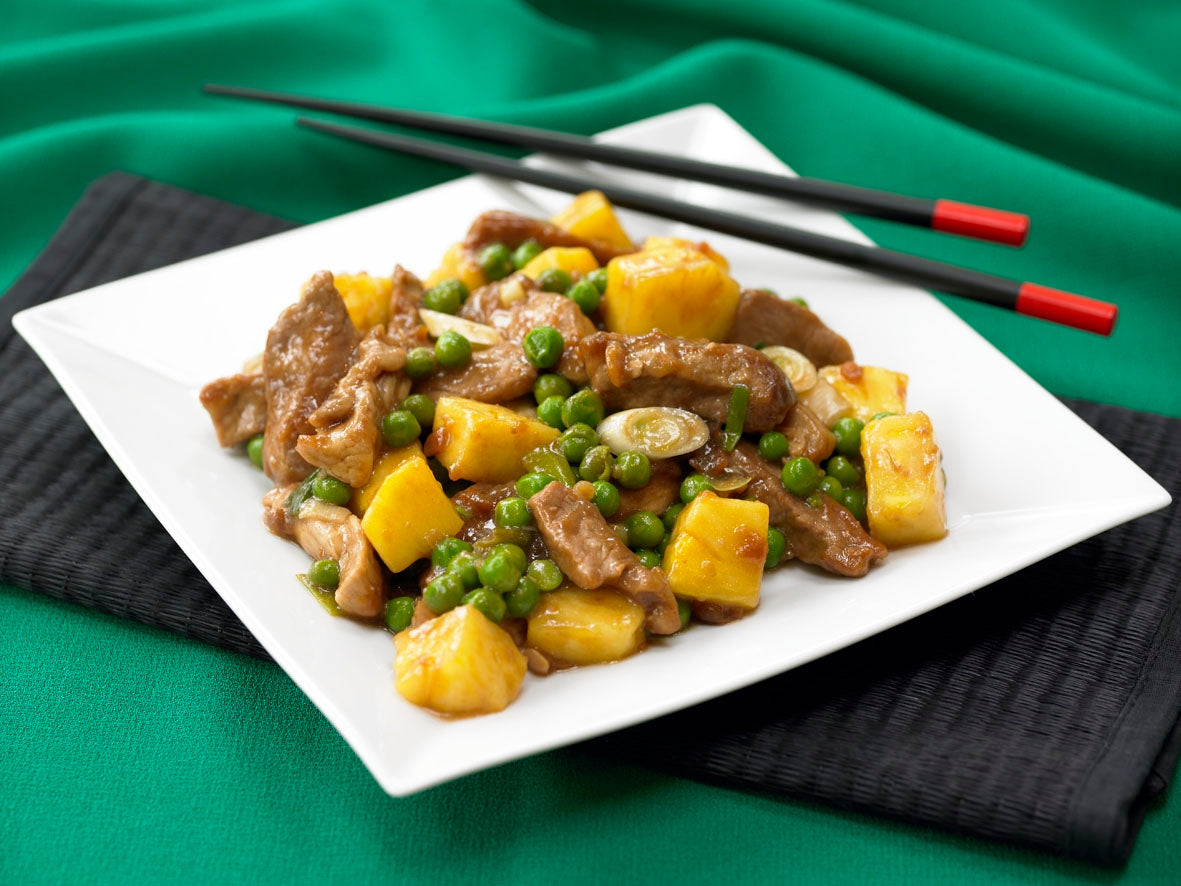 Stir-fried Pork with Pineapple
Again, pork is so distinctly flavourful, it goes nicely with practically any other assertive ingredient, in this case, pineapple. The sweet, slightly acidic fruit blends easily with the pork, while the fresh peas add a textural and colorful dimension. This unusually appetizing dish is an ideal centerpiece for a family dinner or for friends. A very quick and easy dish.
Preparation Time: 20 minutes
Cooking Time: 10 minutes
Serves 4-6
1 lb (450g) lean pork fillet
1 tablespoon light soy sauce
1 teaspoon rice wine or dry sherry
1/2 teaspoon salt
2 teaspoons cornflour
1 small fresh pineapple, about 1 lb (450g) - 1 1/2 lb (700g)
4 oz (100g) fresh or frozen peas
1 1/2 tablespoon oil, preferably groundnut
1/2 teaspoon salt
2 tablespoons spring onions, coarsely chopped
1 tablespoon light soy sauce
2 teaspoons dark soy sauce
2 teaspoons sugar
1/2 teaspoon cornflour mixed with 1/2 teaspoon water
Slice the pork into 1/2 (1 cm) x 3 inch (7.5 cm) strips and combine them with the soy sauce, rice wine, salt, and cornflour in a medium-size bowl.
With a sharp knife or cleaver, remove the skin of the pineapple. Cut the pineapple into 1 in (2.5cm) cubes and discard the tough centre core.
If you are using fresh peas, blanch them in boiling water for 2 minutes, drain and set aside. If you are using frozen peas, let them thaw at room temperature.   
Heat a wok or large frying pan until it is hot, then add the oil, salt and spring onions. Stir-fry the mixture for 10 seconds. Then add the pork and stir-fry for 1 minute. Put in the pineapple, peas, soy sauces, sugar, and cornflour-water mixture. Cook for 2 more minutes. Serve at once.
Hint:
* Substitute veal for the pork.
* Watch for overcooking, once pork is firm, it is done.
his recipe takes advantage of the quick cooking characteristics of rice noodles.  Cooked for about two minutes and then combined with the blanched broccoli for another few minutes, the noodles make...
Read more
This is an example of the "New Hong Kong Cuisine," and fast as well. Hong Kong chefs have adapted the exotic mango to new uses, as in this recipe. The soft texture and sensual sweetness of the frui...
Read more